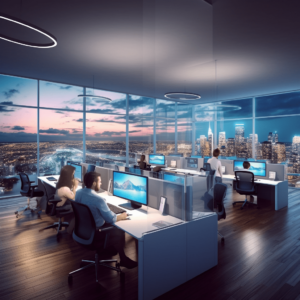 Having a reliable business continuity plan is crucial in today's rapidly evolving business landscape. When it comes to establishing a robust communication system with customers and clients, cloud contact centers offer numerous advantages. One of the most notable benefits of cloud contact centers is their ability to facilitate seamless communication with customers, regardless of their physical location. In situations where unexpected events like disasters or emergencies occur, these contact centers play a pivotal role in maintaining open communication channels, enabling businesses to continue operating efficiently. Moreover, cloud contact centers prove to be invaluable for organizations with dispersed workforces, as they empower remote agents to access essential features such as customer data and call routing.
The flexibility offered by cloud contact centers is one of their key advantages. Unlike traditional on-premises solutions, cloud contact centers can be rapidly scaled up or down to meet the specific needs of a company. This means that businesses can easily adjust their contact center capacity in response to changing business requirements, without concerns about the costs and logistical challenges associated with on-premises solutions.
Another significant benefit of cloud contact centers is their seamless integration with other critical business applications, including customer relationship management (CRM) systems. By integrating these platforms, companies can gain valuable insights into customer interactions, enabling data-driven decision-making processes that enhance customer satisfaction and drive overall business growth.
In conclusion, incorporating cloud contact centers into a comprehensive business continuity plan is essential. By leveraging the advantages of cloud-based technology, companies can ensure effective communication with customers, even in the face of unforeseen events. Whether your goal is to optimize business continuity strategies or enhance the customer experience, investing in cloud contact centers is a wise decision that yields significant benefits for your business.