Looking for a way to increase your team's productivity? Try eTollFree.net's eDialer service! Our advanced predictive dialing system can increase your productivity by up to 300%, allowing your team to connect with more customers in less time. With features like automatic call distribution, call recording, and real-time analytics, our eDialer service is the perfect solution for businesses of all sizes looking to improve their outbound call center operations. Plus, our expert support team is always available to provide training and assistance with setup and management. Contact us today to learn more!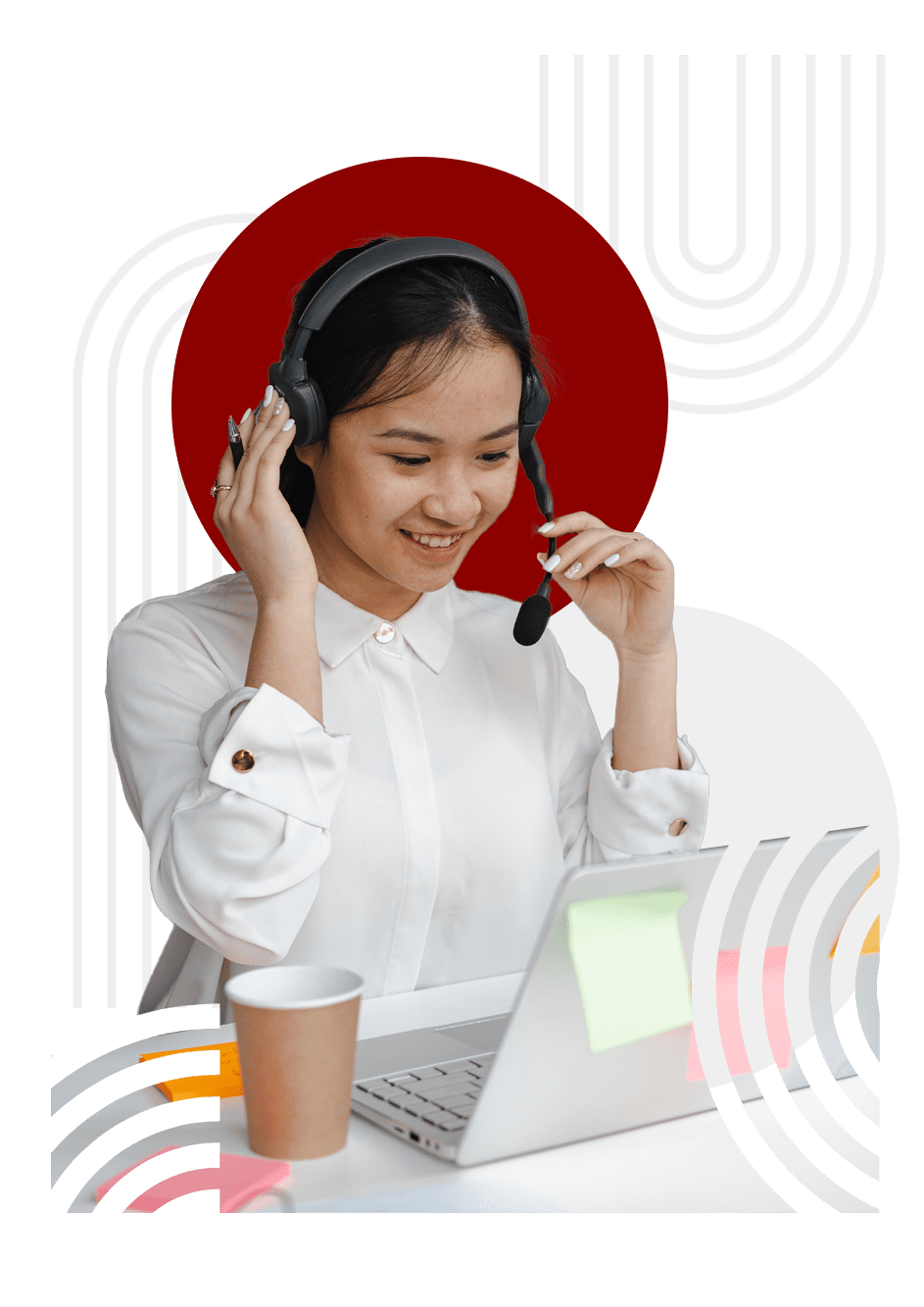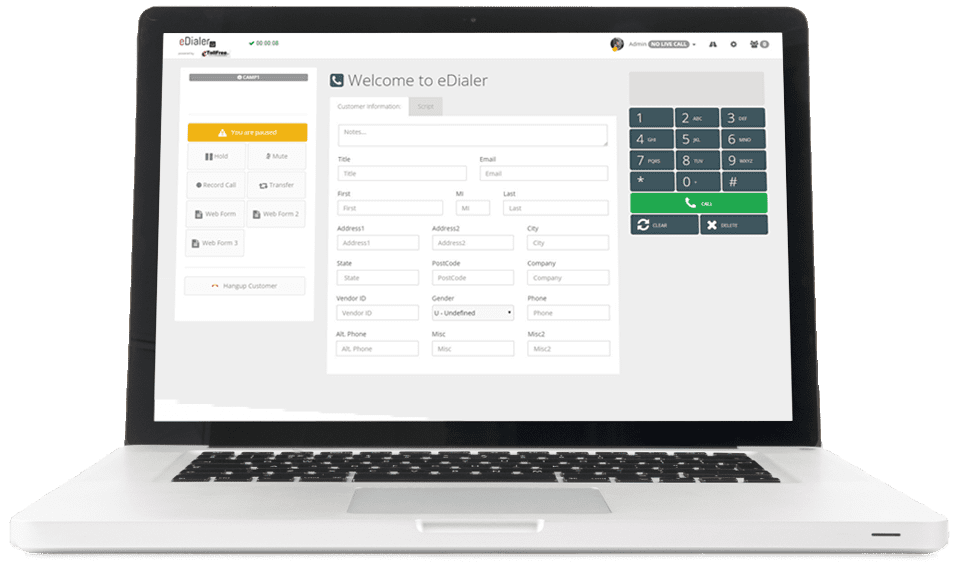 Feature Rich | Customizable | Easy-to-Use
At eTollFree we offer a simple to use CRM Predictive Dialer that uses algorithms to help reduce the time your agents are spending on answerless phone calls.
Give us a call today to find out how we can help increase your sales in your inbound or outbound call center operation!
What is an eDialer (Predictive Dialer)?
Click below to see the different areas of eTollFree's eDialer system and how it can help your business productivity.
30 Minute Activation, 24 Hour Tech Support, Additional volume discount available upon request, Completely Customizable Business Phone System
Startup
Crafted for Startups
Businesses
Crafted For Your Growth
AI-Powered Agent Coaching (Add On)
Advanced
Crafted for Real Web Geeks
Unlimited Outbound Calling

Custom Analytics & Reports

Personalized Onboarding Support

Dedicated Account Manager

Dedicated Technical Support
Works as both outbound and inbound call center software
Call customers from a web interface with our virtual call center software, no need to download softphone or 3rd Party software
Show a custom script for the Agent with fields from lead information like name, address, etc.
Set a campaign to auto-dial and send live calls to ready Agents
Dial predictively in a campaign with many dialing calculations
Run multiple campaigns with multiple Agents
Exchange calls and client information between the Agent and closer/verifier
Open a custom site page with client information from the call
Autodial campaigns and send calls to IVR before sending to Agents with custom auto dialer software
Set callbacks with a client as either any-operator or Agent particular
Manual dial mode to see leads before dialing
Agents can be logged from any place with only a web browser
Speedier hang up and dispositioning of calls with one key press (Hotkeys)
Determinable Operator Wrap-up time per campaign
Create custom call dispositions per campaign
Setup custom recycling of leads at specified time interval
Setup custom Time Zone limitations for leads
Real-time report display
3rd party conferencing (with DTMF )
3rd party blind call transfer
3rd party conferencing with agent drop-off
Custom Music-On-Hold and agent alert sound for inbound calls
Present Callers with estimated hold time, place in line, overflow queues and several other inbound features
Route and raking calls to agents via agent's Skills-sets
Queue Prioritization per campaign and inbound group
Single agent call queuing
Ability to set user levels and permissions for certain features and campaigns
Import leads easily from API or web interface
Web-based data export utilities
Separate Time-clock application to track user work time
Administration via web portal
Listen, and coach agents threw manager web interface
Custom API available allowing for control of agent call sessions like click to call and …
Create new VoIP connections, agent phones, and inbound DID setups through administration interface
Pause and Park customers with custom on-hold music
Dial clients with a pre-recorded message
Send a dropped call to a phone message box, line, or expansion per campaign if no Agent is accessible
Set outbound Caller ID per campaign or per list
Accept inbound calls while creating a lead list by Caller ID
Work as an ACD for inbound and frontier/nearer check calls
Take both inbound and outbound calls while in blended campaigns
Start and stop recordings at any time with custom recording settings
Set campaigns to consequently record all calls
Set campaigns to call leads main, alternate, and third alternate numbers if available
Autodial unlimited alternate numbers for your leads
Setup Answering Machine Detection, sending calls to voicemail, custom greetings, or just drop
Mix and match campaigns and lead-lists to fit your needs
Setup drop timer with safe-harbor message for FTC compliance
Variable drop call rate while dialing presciently for FTC consistence
Activate system-wide or per campaign DNC lists restrictions
We log all calls, agent activity, and lead activity for various custom generated reports
Load Balancing of call across multiple inbound or outbound servers
Generate custom real-time and summary reports to stay on top
Monitor- enter conversations with agents and customers
Manage- change the selected queues for an agent on the fly
Manage- Create pause Codes for your agents when they are away
Give agents the to control to set volume levels and mute themselves when necessary
Disable or enable agent's ability to view the statuses of other agents on the system
Allow agents to view details for calls in queue that the agent is selected to take calls from
Allow agents to select and click to take calls in queue from their agent screen
Manage- set agent's shift enforcement rules by day and time
Web application is available in any language
Move your team through large call lists with ease. However, our predictive dialer features use advanced algorithms to throttle call delivery, finding the most efficient speed for your telemarketers. Moreover, the system has the capability of 30-channels per line to ensure zero agent downtime. Therefore let artificial intelligence work for you so you can focus on running your business.
When it's time to focus on particular leads and target them with intent. However, our preview dialer provides lead information in a popup, giving agents the data they need to succeed. Agents click to call leads and the dialer only calls the selected lead. Therefore this option provides manual control of the dialing platform so agents can execute targeted campaigns.
To go through large lists and maximize the call volume of each team member. However, 30-channels are available per agent to connect them to a live call every time. The dialer shuts off during calls to avoid missed opportunities. Moreover, Select your speed and the dialer pushes out on those channels, so you have full control of call volume.
Three Different Dialing Modes