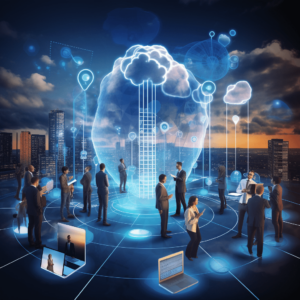 The advent of cloud phone technology has undeniably transformed the landscape of sales and marketing practices across various industries, and its application in the financial services sector is nothing short of remarkable. Embracing this cutting-edge technology empowers financial organizations to enhance operational efficiency, optimize cost management, and deliver an unparalleled level of personalized customer experience.
One pivotal advantage of cloud phone technology lies in its enhanced scalability. Gone are the constraints imposed by physical hardware or software limitations, enabling companies to readily accommodate diverse customer needs. Cloud-based infrastructures facilitate swift deployment of novel features and updates, an invaluable asset in navigating compliance concerns and rapidly adapting to ever-changing market conditions. Moreover, communication resources can be effortlessly tailored to match fluctuations in call volume or seasonal demands.
A seamless integration of cloud phone technology with customer relationship management (CRM) tools has emerged as another boon for financial services companies. This harmonious amalgamation equips sales and marketing teams with a unified, centralized platform, streamlining conversation tracking, contact management, and scheduling follow-ups. Consequently, financial services organizations can provide highly personalized support to each customer while concurrently curbing overhead expenses.
Notably, cloud phone technology paves the way for an even deeper customization of the customer experience by offering features like voice analytics and automated greetings. Leveraging voice analytics allows companies to discern customer sentiment during interactions, thereby bolstering the overall quality of service rendered. Meanwhile, automated greetings ensure swift and accurate routing of callers to the appropriate departments, minimizing customer wait times.
In essence, cloud phone technology has initiated a profound revolution in sales and marketing for financial services companies, bestowing upon them the indispensable tools to effectively engage with customers. By harnessing the full spectrum of capabilities offered by cloud phone systems, these organizations can harness their growth potential while providing an unparalleled, tailor-made customer experience.