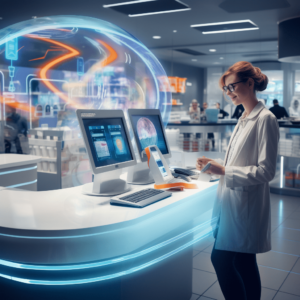 In today's fast-paced world, striking the right equilibrium between convenience and security has become an imperative in the realm of retail customer experience. Modern consumers expect a seamless amalgamation of both elements, where shopping is effortless, swift, and safeguarded. For retailers, the challenge lies in creating a harmonious convergence of convenience and security to deliver utmost customer satisfaction.
Technology has emerged as a game-changer, affording retailers new avenues to achieve their goals of providing top-notch security while simultaneously crafting an enjoyable shopping journey. One such avenue involves the integration of convenient automated authentication processes, such as biometric identification. By leveraging this cutting-edge technology, customers are liberated from the burden of remembering passwords or sharing information across multiple databases. Instead, they can effortlessly and securely access their accounts with the mere touch of their fingerprints or through facial recognition.
Moreover, retailers can extend the option of self-service kiosks or mobile device checkouts to their customers. This empowering move not only saves customers time but also ensures a secure checkout experience. Embracing payment technologies like Apple Pay or NFC payments further reinforces secure transactions and streamlines the shopping process, catering to the preferences of today's digitally inclined consumers.
Finding the optimal balance between convenience and security is the cornerstone of a successful retail customer experience. By embracing modern technologies and making astute design choices, retailers can ensure that customer data remains impervious to threats while creating a shopping journey that is easier, faster, and more enjoyable than ever before.
Through such an approach, customers can relish a secure and efficient shopping experience befitting the expectations of the digital age. Retail companies that invest the time and effort to curate the perfect blend of convenience and security can create a retail landscape where customers enjoy peace of mind alongside a seamless user experience. In essence, achieving this balance is paramount.
In conclusion, retailers must prioritize convenience and security to meet the expectations of today's savvy consumers. By harnessing modern technologies and adopting innovative solutions, businesses can strike a harmonious chord between convenience and security, fostering an optimal customer experience that drives customer loyalty and repeated patronage.
Incorporating these insights and leveraging technological advancements, retailers can unlock the potential to create an exceptional user experience that keeps customers returning for more. By striking the right balance between convenience and security, retailers can fortify their position in the market, setting themselves apart as providers of a top-tier shopping experience in today's digital era.