Using Lead Search During Vicidial® Setup
Lets us help you save time and money. Get started today!
Check out our training videos and learn about Vicidial basics, inbound campaign setup, outbound campaign setup, call monitoring, reporting, and more. Please do not hesitate to contact us if you have any further questions, or need assistance in training.
Using Lead Search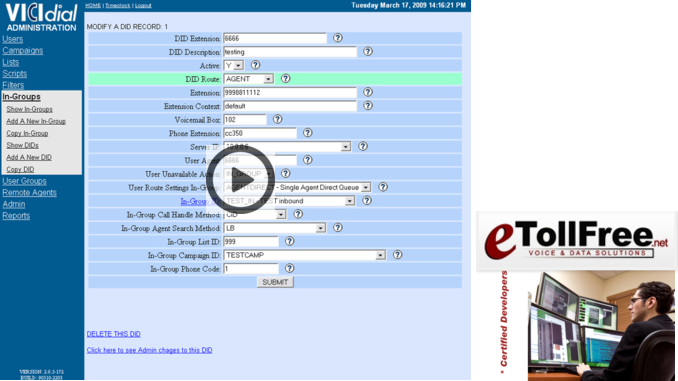 [wp_social_sharing social_options=\'facebook,twitter,googleplus,linkedin\' twitter_username=\'support@etollfree.net\' facebook_text=\'Share on Facebook\' twitter_text=\'Share on Twitter\' googleplus_text=\'Share on Google+\' linkedin_text=\'Share on Linkedin\' pinterest_text=\"Share on Pinterest\" xing_text=\"Share on Xing\" icon_order=\'f,t,g,l,p,x\' show_icons=\'1\' before_button_text=\'\' text_position=\'\' social_image=\'\']
This will show you the step-by-step tutorial on how to search for a lead from the Administration page.  These screenshots show the steps using our new updated interface.
I'm using our demo server that you can visit at: demo.edialer.net
1. Go to Lists
2. Click Search for a Lead
There are different ways on how you can search a lead. The most common ones are: Search by Phone (no spaces or special characters, just numbers), Search by Status (the 1-6 character status from the System or Campaign Statuses) and Search by First Name or Last Name.
Let's try and search for a phone number, as an example:
3. Type the number you want to search under the phone number's field, then SUBMIT.
After you click submit, it will show an overview of the lead, the lead ID, Status of the lead, Vendor ID (if any), List ID where the list was uploaded, Phone number, Name, city and the last call date and time.
If you click the Lead ID, it will show more detailed information of the lead. This is also the page where you can modify the lead information and status, if necessary.
VICIdial® is the property of VICIdial group