Toll-Free Services at
Wholesale Rates
Wholesale Toll-Free Rates
Showing your customer commitment by offering personalized services can help improve your brand loyalty and ultimately your customer experience. Toll-free calling is one way to provide a valuable link with your customers. It's a cost-effective way to manage telecom costs, and make a positive impact on your business's bottom line. Plus, it can make the difference between a call to you — or to your competition who's using a more efficient telemarketing software. Wholesale toll-free rates and services through eTollFree make this experience that much easier.
eTollFree's powerful virtual call center solutions and cheap toll-free numbers provide flexibility with dedicated or switched solutions, utilizing a TDM or SIP-based platform. You can connect your business phone service with high-quality inbound toll-free calls with competitive usage rates from a proven network provider. Enjoy the benefits of a voice service delivered over a secure, high-performance digital communications network. And you can rely on our expertise to help you plan a TDM-to-SIP migration for seamless implementation and uninterrupted service. We have the
VoIP call center solutions and 800 number service you've been looking for
Benefits you get for your business.

Flat Rate
Wholesale Services
Need tier 1 services without worrying about rates? Our flat rate service for the continental US 48 states + Alaska is the lowest you will find anywhere.

Unlimited
VoIP Connectivity
We offer many ways to connect toll-free services to your customers. We offer toll-free to VoIP as well as toll-free to PSTN service connections.

Maintain
RespOrg Control
Do you have your own RespOrg-ID? Maintaining your own RespOrg-ID with our wholesale services is a standard practice.

Phone
Number API
Search our extensive inventory for your customer's desired toll-free phone number and buy it on the spot using either our API or website.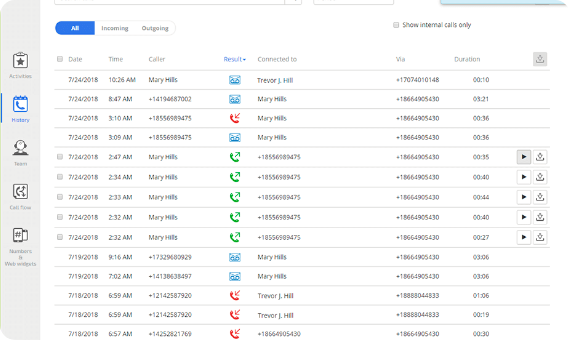 CDR Daily Call Detail Records
Keep up to date with daily call detail records. Download daily call detail records from our secure FTP site location. These records will contain everything you need to properly bill your customers and reconcile billing on a daily basis
Toll Free Service Details & Benefits
Intrastate, interstate and international toll-free calling anywhere in the world, with options for TDM or SIP, dedicated or switched service. Features Include: Flexible and Enhanced Routing, Directory Assistance, Interactive Voice Response (IVR) plus extensive reporting. Disaster Recovery: Short Message Service (SMS) Emergency Re-Route, Route Advance and Overflow, and Temporary TF Re-Route
Dedicated Termination Services: Automatic Number Identification (ANI) and Dialed Number Identification Service (DNIS)
Delivery, Route Advance, Trunk Group Overflow, ISDN PRI information
Unique 800 numbers for incoming calls with random and vanity toll free numbers supported
Origin-of-Call Blocking and Routing Restrict calls by state, LATA, NPA or NPA-NXX
Private backbone keeps traffic protected and isolated from the Internet
24 x 7 network management and monitoring through our Network Operations Center
Security: We work to protect your voice traffic at every point in the network — from edge to core
Portal-Enabled Efficiency: Enhanced routing provisioning empowers you to establish and manage toll free number routing based on your operational and business requirements.
Wholesale Toll Free Numbers
Call Sales
(800) 233-0234
Keep Agents Talking, Not Dialing.
Increase Productivity by 300%.
click here to order now!
Completely Customizable Business Phone System