Poly CCX 600 Teams Phone with Blackwire 5200 Headset
The Poly CCX 600 is a top of the line deskphone for managers and executives who are on the Microsoft Teams platform and enjoy or need to use a headset for their call handling and video conferences. Boasting an elegant design with a touch-screen 7 inch display, the CCX 600 combines ease of use with high-end features and includes an integrated dedicated Teams button and a Blackwire 5200 headset.
Poly CCX 600 Teams Phone with Blackwire 5200 Headset Overview
The Poly CCX Series of Microsoft Teams Edition desk phones are setting a new standard in what users expect from their desktop phones. The CCX Series is designed to increase workplace productivity because it is designed with users in mind catering to the way you work. The CCX Series is simple to use with intuitive interfaces that help employees and executives get to work immediately and hassle-free. The models come in various styles with options to either keep the handset in the desk phone or eliminate the handset for scenarios where you know you will only be using a headset with your Teams device.
The Series includes the CCX 600 with Blackwire 5200 headset detailed here, which is designed for the executive user. It has a 7-inch display with a dedicated Teams button, and 2 USB ports. It has integrated Bluetooth and Wi-Fi and is designed with headset users in mind. Both Microsoft Teams and Skype for Business are supported.
Other models include the:
CCX 500 without handset
CCX 600 without a handset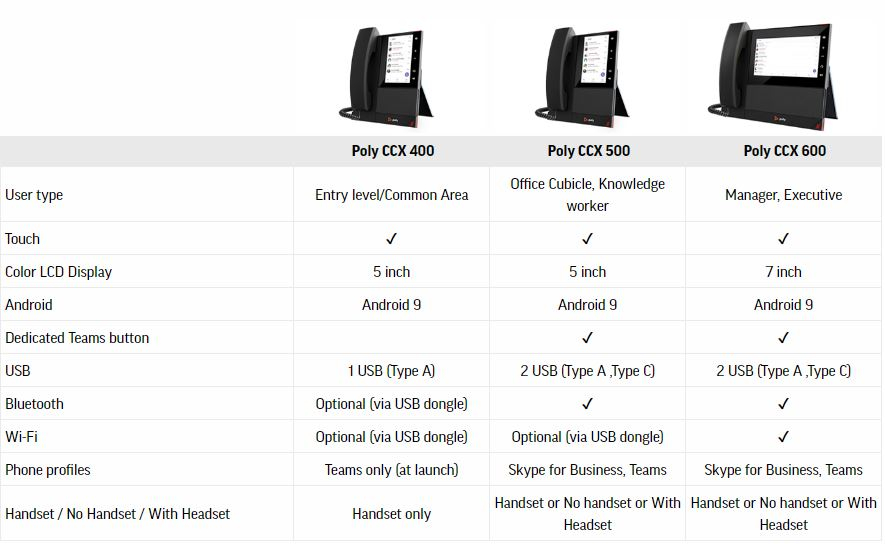 Poly CCX 600 with Blackwire 5200 Headset Features and Specifications:
HD Voice quality
Simple to use
Intuitive user interface
Integrated Bluetooth and Wi-Fi
Dedicated Teams button