Learn How to Upload Leads with Vicidial® setup
Lets us help you save time and money. Get started today!
Check out our training videos and learn about Vicidial basics, inbound campaign setup, outbound campaign setup, call monitoring, reporting, and more. Please do not hesitate to contact us if you have any further questions, or need assistance in training.
Uploading Leads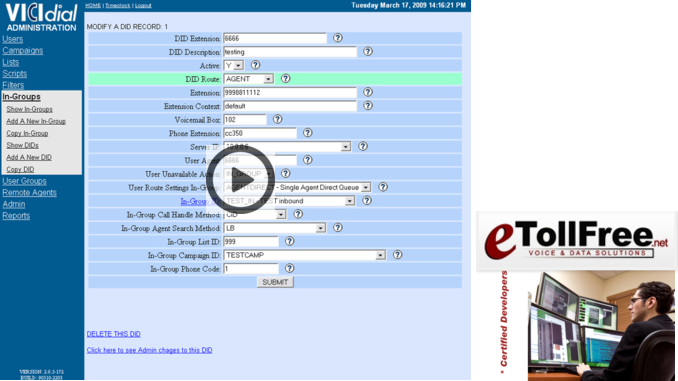 [wp_social_sharing social_options=\'facebook,twitter,googleplus,linkedin\' twitter_username=\'support@etollfree.net\' facebook_text=\'Share on Facebook\' twitter_text=\'Share on Twitter\' googleplus_text=\'Share on Google+\' linkedin_text=\'Share on Linkedin\' pinterest_text=\"Share on Pinterest\" xing_text=\"Share on Xing\" icon_order=\'f,t,g,l,p,x\' show_icons=\'1\' before_button_text=\'\' text_position=\'\' social_image=\'\']
This will show you the step-by-step tutorial on how to upload lead lists from the Administration page.  These screenshots show the steps using our new updated interface.
I'm using our demo server that you can visit at: demo.edialer.net
From the menu on the left side of the administration page, click "Lists".
2. If you don't have a list yet, create one by following these steps:
List ID: Any number greater than 99
Assign a list name
List description: Optional
Campaign: Assign a campaign for the list
Active: Make sure it is set to \"Active\"
Click SUBMIT
3. If you have created a list ID or have one ready, click on "load new leads".
4. From the uploader screen:
Load leads from this file: Choose File (8MB max file size, .csv or .xls format)
List ID: Select the "list ID" where you want to upload the leads.
5. Leave all other fields at default settings
6. Click Submit. It'll take you to the mapping field.
7. Map the headers of your spreadsheet file to the labels on the left.
8. Once done, click "ok to process" to continue uploading the leads.
Note: Wait for the confirmation that will show how many good/bad/ total files you've uploaded.
VICIdial® is the property of VICIdial group