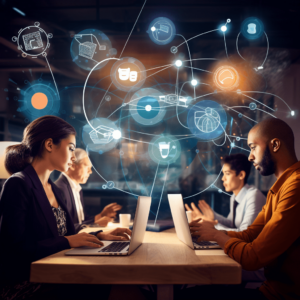 Technology has revolutionized the way organizations communicate and interact with their stakeholders. Contact center technology, in particular, has created opportunities for nonprofits to increase access to their services and create a more inclusive environment for people from all backgrounds. 
Using contact center technology, nonprofits can provide multiple channels of communication such as voice calls, video conferencing, chat services, texting, and email. This allows nonprofit organizations to reach traditionally underserved populations who may not have access to traditional face-to-face interaction. Additionally, by providing multiple channels of communication it also increases convenience for those who are already engaged with the organization. 
Organizations can also use contact center technology to create custom scripts that automate certain functions like customer service interactions or donation requests. This can increase efficiency while also providing a more personalized experience to users, as they can be greeted by name and have specific information tailored to their needs. 
Accessibility is improved when contact center technology is used to provide visual interactive services such as screen sharing, document sharing, and video recordings. This allows visually impaired stakeholders to effectively participate in conversations and engage with the organization on an equal footing with others. 
The use of contact center technology provides nonprofits with the ability to improve accessibility for all stakeholders regardless of their background or physical abilities. By leveraging this technology, nonprofit organizations are better able to provide an inclusive environment for everyone involved. Thus ensuring that no one is left out or excluded from participating in activities related to the organization. 
Overall, contact center technology can be a powerful tool to help nonprofit organizations bridge the gap between those who have access to services and those who don't. By providing multiple communication channels and accessibility features, nonprofits can ensure that everyone is included in their activities and has an equal opportunity to benefit from the organization's offerings.