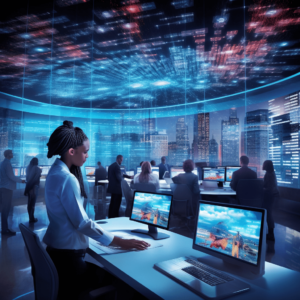 As businesses become more reliant on technology, they're looking for ways to use the cloud to improve customer experience. One increasingly popular way is by utilizing cloud contact centers. 
Cloud contact centers are cost-effective and easy to set up. By leveraging the power of the cloud, companies can quickly and easily deploy powerful customer service solutions that can help them meet their customers' needs in a better way. 
These services provide advanced features such as call routing, automated responses, SMS messaging, IVR (interactive voice response), analytics, and reporting tools that enable agents to respond quickly and accurately to customers' inquiries. Furthermore, these systems allow for self-service options where customers can access information without having to talk to an agent, thus improving the customer experience. 
Cloud contact centers also help businesses streamline their operations and reduce operational costs. By taking advantage of cloud technologies, companies are able to scale up or down quickly in order to meet changing customer demands. Additionally, they can integrate with other systems and applications to give customers a more comprehensive service experience. 
Overall, using cloud contact centers is a great way for businesses to enhance their telecommunication customer experience while saving time and money. It provides users with access to advanced features that can help them better serve and engage their customers in order to increase loyalty and satisfaction levels. As technology continues to evolve, so too will the use of cloud contact centers as an essential tool for providing superior customer support and service.