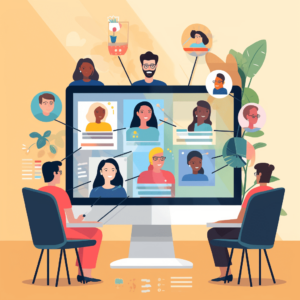 Remote work has become more prevalent than ever, with teams spread across different locations and time zones. While technology has facilitated this shift, effective communication remains a crucial challenge. Telephony, specifically Voice over Internet Protocol (VoIP) and cloud-based phone systems, plays a vital role in enhancing collaboration among remote teams. In this article, we'll explore how telephony enables seamless communication and fosters collaboration among team members working from diverse locations.
1. Real-Time Communication: Telephony provides real-time voice communication, allowing team members to connect instantly. Whether it's a quick question, brainstorming session, or urgent matter, a phone call bridges the gap and fosters immediate interaction.
2. Voice Clarity and Tone: While emails and text messages lack tone and emotions, telephony brings back the human touch. Hearing voice inflections and emotions helps team members better understand each other, reducing miscommunications and enhancing collaboration.
3. Conference Calls and Virtual Meetings: Telephony enables conference calls and virtual meetings, making it easy for remote teams to gather for discussions, presentations, and decision-making. This face-to-face interaction builds rapport and fosters a sense of camaraderie.
4. Quick Issue Resolution: When challenges arise, resolving them promptly is crucial. Telephony allows team members to discuss problems in detail and find solutions without delay, streamlining workflows.
5. Spontaneous Collaboration: Telephony facilitates spontaneous collaboration, similar to impromptu conversations that would occur in a physical office. Team members can call each other to discuss ideas or seek assistance without scheduling formal meetings.
6. Access to Voicemail: In case team members are unavailable, telephony offers voicemail features to leave messages. This ensures that important information is not lost and can be retrieved later.
7. Integration with Collaboration Tools: Many telephony systems integrate with collaboration platforms like Slack or Microsoft Teams, centralizing communication channels. This seamless integration enhances productivity and keeps all team communications in one place.
8. International Collaboration: For global teams working in different time zones, telephony ensures efficient communication without the need for synchronous working hours. International calls are simplified, fostering collaboration across borders.
9. Mobile Connectivity: Telephony's mobile applications allow team members to stay connected on the go, supporting remote work from any location.
10. Call Analytics and Reporting: Telephony systems often provide call analytics and reporting, giving managers insights into call volumes, response times, and team communication patterns. These analytics help optimize collaboration strategies.
11. Training and Onboarding: Telephony can be used for remote training sessions and onboarding new team members, ensuring they feel connected from day one.
In conclusion, telephony plays a pivotal role in enhancing collaboration among remote teams. By providing real-time communication, conference calls, voice clarity, and seamless integration with collaboration tools, telephony fosters efficient and effective teamwork. As businesses continue to embrace remote work, leveraging telephony solutions becomes essential for maintaining a cohesive and collaborative workforce, irrespective of geographical boundaries.