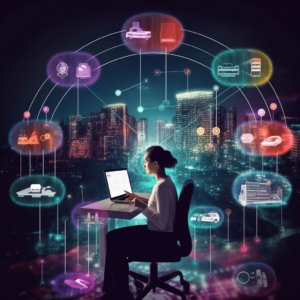 The future of telecommunications is changing rapidly due to the emergence of cloud contact centers. Cloud contact centers provide businesses with the ability to increase customer service, communication and sales performance by leveraging the power of technology, data analytics, and telephony services. By providing a streamlined platform for customers to access support resources, cloud contact centers are able to reduce errors, shorten response times and improve overall customer satisfaction. 
In addition to improving customer engagement, cloud contact centers also offer cost savings compared to traditional call center solutions. By using virtualized solutions instead of physical hardware, businesses can save significantly on upfront capital costs as well as ongoing maintenance costs. In addition, they can benefit from scalability; many providers offer pay-as-you-go plans that allow businesses to scale up or down depending on their needs.
Finally, cloud contact centers offer a variety of features and benefits that can enhance the customer experience. For example, they can provide access to advanced analytics tools and comprehensive reporting capabilities which allow businesses to track performance data more accurately and make more informed decisions. They also provide features such as automated self-service options, personalized recommendations, live chats and multimedia queues which enable customers to quickly get assistance without waiting in line. 
As the telecommunications industry continues to evolve, cloud contact centers are becoming an increasingly important part of communication strategies for many businesses. By leveraging its cost savings and advanced capabilities, cloud contact centers are sure to be a major factor in the future of telecommunications for years to come.