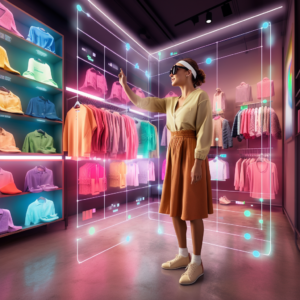 Augmented Reality (AR) is rapidly revolutionizing the retail customer experience, bridging the gap between physical and digital worlds. From product visualization to try-on capabilities, AR transforms the way customers interact with products in physical stores and online. With AR technology, customers are given an immersive experience that makes shopping more engaging, convenient and fun. 
AR has several advantages over traditional shopping techniques. It allows customers to virtually see how they would look in a particular outfit or get a better visual representation of what they'll purchase. This eliminates any uncertainty or hesitation when it comes to making a decision to buy something. Additionally, it helps reduce costs associated with returns due to wrong sizing or color selection since shoppers can get an accurate view of what they're getting before committing to a purchase. 
For retailers, AR can be used to provide customers with an interactive and personalized shopping experience. By tracking customer behavior, stores can customize their offerings based on individual preferences. For example, a store might use AR to showcase specific items that customers are likely to purchase or suggest complementary items that go with the ones they've selected. 
The introduction of AR also gives retailers the opportunity to offer a more immersive experience in-store than traditional retail locations. With virtual fitting rooms and product visualization capabilities, shoppers have an enhanced level of engagement that encourages them to explore more products without having to move around the store. 
In conclusion, Augmented Reality is revolutionizing the retail industry, bringing a more engaging and personalized customer experience. As technology continues to evolve, AR will become even more prevalent in retail stores and online, creating immersive experiences that customers love. 
By leveraging AR capabilities, retailers are able to create an enhanced shopping environment that encourages exploration and makes it easier for shoppers to make decisions when choosing products. Ultimately, this leads to improved customer satisfaction and higher sales for businesses.