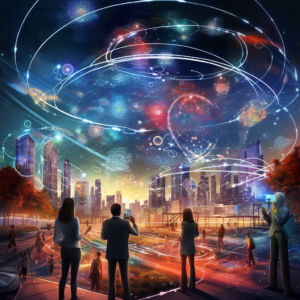 Telecommunications evolves constantly due to technology and consumer expectations. Here are some trends that will shape telecommunications' future.
The 5G Revolution: 5G networks are changing telecom. With faster speeds and lower latency, 5G is helping AR, VR, and IoT thrive. This technology will transform gadget and human interaction.
Edge computing is becoming essential to telecommunications. Data processing near the source minimizes latency and improves real-time applications. IoT gadgets and autonomous vehicles need split-second choices.
AI and Automation: AI is crucial to network efficiency, predictive maintenance, and customer service. More advanced chatbots and virtual assistants provide tailored and efficient client care.
Internet of Things Expansion: The IoT connects smart homes, cities, and industrial gear. Telecommunication networks enable device-to-device data interchange, driving this expansion.
Telecoms are adopting cloud-native architectures. This improves network deployment and management flexibility, scalability, and affordability.
Cybersecurity is crucial as telecommunication networks become increasingly complicated. A primary emphasis is protecting sensitive data and essential infrastructure, leading to greater investments in enhanced security.
5G for Enterprises: 5G will change industries beyond consumer use. Manufacturing and logistics companies are considering private 5G networks for connection and automation.
Telehealth adoption increased throughout the pandemic. Thus, telecommunications will enable virtual doctor visits and remote patient monitoring in remote healthcare.
Satellite Internet: SpaceX and OneWeb are launching satellite constellations to bring high-speed internet to rural locations. This will reduce the digital gap and globalize connectivity.
Sustainability: Telecom firms are moving toward sustainability. Their energy-efficient infrastructure and green technologies are minimizing their carbon impact.
Telecommunication in Space: As space exploration grows, telecommunication will let astronauts communicate and manage satellite networks.
Quantum communication offers ultra-secure data transmission using quantum physics. Although new, it has great potential for secure communications.
Finally, telecoms' future is exciting and transformational. AI, IoT, 5G, and other coming technologies will change how we interact and do business. These trends will improve connectivity and efficiency but also present new difficulties and opportunities for consumers and businesses in the changing telecoms industry.