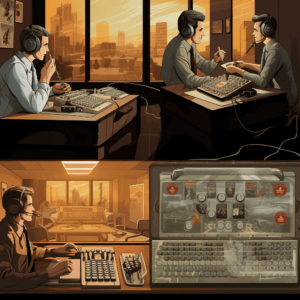 The world of telecommunications has come a long way since the early days of manual dialing systems. With technological advancements, dialer systems have evolved significantly, transforming the way businesses conduct outbound calls and customer interactions. In this article, we'll explore the evolution of dialer systems from manual dialing to the sophisticated predictive dialing solutions we have today.
Manual Dialing: In the past, agents had to manually dial phone numbers one by one, often relying on physical lists. This process was time-consuming and inefficient, with agents spending a significant portion of their time waiting for calls to connect or dealing with unanswered calls and busy signals.
Automatic Dialing: The advent of automatic dialers brought about a significant improvement in outbound calling efficiency. These dialers automated the process of dialing numbers, reducing agent idle time and increasing the number of calls made per hour. Automatic dialers dialed numbers from a predefined list, and once a call was connected, the system would transfer the call to an available agent.
Power Dialing: Power dialers further enhanced efficiency by dialing multiple numbers simultaneously when an agent became available. This reduced the time agents spent waiting between calls and improved overall productivity.
Predictive Dialing: The introduction of predictive dialing marked a revolutionary shift in dialer technology. Unlike previous systems, predictive dialers used algorithms and artificial intelligence to predict agent availability and call answer rates. The dialer would dial multiple numbers simultaneously, adjusting the dialing rate based on agent availability and expected call answer times. This minimized agent idle time and increased the number of live connections, significantly boosting productivity.
Preview and Progressive Dialing: Preview dialing allowed agents to view customer information before the call was placed, providing a brief window to prepare for the conversation. Progressive dialing, on the other hand, initiated calls as soon as an agent became available, helping maintain a steady flow of connections.
Smart Predictive Dialing: Recent advancements in predictive dialing technology have led to even smarter systems that incorporate data analytics and machine learning. These dialers can analyze call data in real-time, predicting customer behavior and agent performance to optimize the dialing process further.
In conclusion, the evolution of dialer systems from manual dialing to predictive dialing has been transformative for businesses that rely on outbound calls. These advancements have not only increased efficiency and productivity but have also improved the overall customer experience. With smart predictive dialing solutions continuing to evolve, businesses can expect even more efficient and data-driven outbound calling in the future.