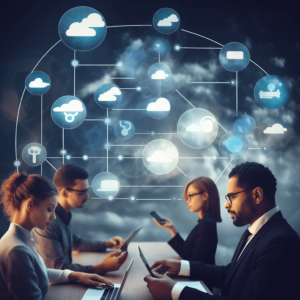 The cloud phone technology revolution has had a major impact on the financial services industry. With remote working becoming increasingly popular and customers demanding improved customer service, cloud phones have become an invaluable tool for financial services companies. 
Cloud phones enable businesses to provide their employees with reliable and secure communication solutions without having to pay for hardware or other equipment. This makes them perfect for remote workers in the financial services sector who often need access to real-time information while they're away from the office. Cloud phones also allow multiple users at different locations to collaborate on projects or make calls simultaneously with teams around the world. 
In addition, cloud phone technology offers greater scalability than traditional landlines – meaning that businesses can add new users quickly and easily without having to roll out physical infrastructure. This makes it easier for companies to accommodate changes in their workforce or expand into new markets with ease. 
From a customer service perspective, cloud phone technology enables companies to provide customers with faster response times and better support. With features such as automatic call queues, virtual receptionists, and interactive voice recognition (IVR) capabilities, businesses can quickly route incoming calls to the appropriate department or agent while also providing informative automated messages. 
Finally, cloud phone technology offers improved security measures compared to traditional landlines. All data is encrypted which helps protect sensitive information from hackers. This ensures that both financial services workers and customers feel safe when using the system – helping them stay connected over long-distances and providing peace of mind. 
Ultimately, cloud phone technology is a great asset for businesses in the financial services sector – enabling them to improve customer service, scale quickly, and secure all data transmissions. With these advantages in mind, it's no surprise that more companies are turning to cloud phones for their remote working needs.  
The revolution of cloud phone technology is here, and it looks like it's here to stay. Financial services companies that embrace this technology will be well-positioned to take advantage of its many benefits and remain competitive in the industry. 
By taking the time to evaluate their communication needs and investing in a reliable cloud phone system, businesses can ensure their employees have access to the best tools for remote financial services work – leading to improved customer service and increased customer satisfaction.