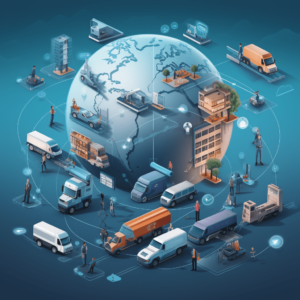 In the fast-paced world of transportation and logistics, seamless communication is crucial. Enhanced telephony solutions are making waves in this sector, driving improvements in supply chains by optimizing communication channels and ensuring the smooth transit of goods from origin to destination.
In this sector, real-time information exchange can mean the difference between success and failure. Advanced telephony solutions facilitate immediate communication between transportation managers, drivers, and logistics teams, enabling quick decision-making and effective problem resolution, ultimately ensuring that goods reach their destinations on time and in optimal condition.
Also, these new phone systems are very important for managing and minimizing the problems that often come up in logistics operations, like delays, wrong routes, and unexpected events. Communication that is quick, clear, and dependable is key to getting through these problems and minimizing the damage they do to the supply chain.
Telephony options are also a big part of making the customer experience better. They make it possible to talk to customers right away, give them real-time updates, answer questions, and solve problems quickly, all of which are important for keeping customer happiness levels high.
In conclusion, putting advanced telephony into the shipping and logistics industry is not just a step forward, but a huge leap. It makes sure that supply chains are efficient and reliable, reduces operating disruptions, and improves interactions with customers. All of these things help the smooth and successful movement of goods in today's connected world.