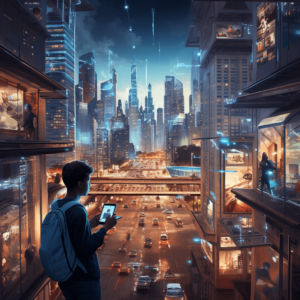 Smart phones and IoT integration are changing how we communicate and engage with technology, creating a more connected and smarter society. Smart gadgets and IoT technologies are changing industries, improving user experiences, and increasing automation and efficiency. A smarter linked world is being created by smart telephony and IoT integration:
1. Seamless Communication: Smartphones and smartwatches are essential for modern communication. These devices can connect with household appliances, autos, and more thanks to IoT integration. This seamless connectivity lets people stay connected and informed everywhere.
2. Home Automation: IoT integration enables smart telephony devices to manage home environments. Smartphones can control thermostats, lighting, security cameras, and door locks. Amazon Echo and Google Home enable voice-controlled control.
3. Healthcare Monitoring: Smart telephony devices can interact with IoT-enabled health monitoring devices for real-time health monitoring. These devices give users and doctors crucial data, from heart rate monitors to blood glucose meters.
4. Smart Cities: IoT integration expands smart telephony devices to urban areas. Sensors, cameras, and networked infrastructure improve traffic flow, air quality, trash management, and public services in smart cities. Smartphones provide real-time information and services.
5. Industry Automation: Smart telephony devices offer remote monitoring and control of IoT-enabled items. This improves industrial automation, predictive maintenance, and real-time data processing, reducing downtime.
7. Retail and Personalization: IoT-integrated smart telephony devices help merchants collect customer preferences and habits data. Personalized buying, targeted promotions, and effective inventory management can be achieved using this data.
8. Transportation and Mobility: IoT and smart telephony are revolutionizing transportation and mobility. Smartphone users can get real-time transportation information, use GPS, and control connected automobiles.
9. Energy Efficiency: IoT connection allows remote monitoring and control of household energy usage. Smartphones control smart thermostats, plugs, and energy monitoring devices to save energy.
In agriculture and farming, smart telephony devices can be combined with IoT sensors to monitor soil, weather, and crop health. Precision agriculture and informed farming decisions are improved by data-driven approaches.
11. Increased Productivity: IoT-integrated devices offer remote collaboration, real-time data exchange, and automated operations in the workplace. Tablets and smartphones can interface with office equipment, security systems, and communication platforms to increase productivity.
12. Entertainment and Media: IoT-integrated smart telephony devices offer customized entertainment. Smartphones can manage smart TVs, streaming gadgets, and audio systems, making content and services easy to access.
As smart telephony devices grow and IoT technologies spread, integration and creativity are infinite. Communication, automation, and data-driven insights are merging to create a smarter, more connected, more efficient world for people and organizations.