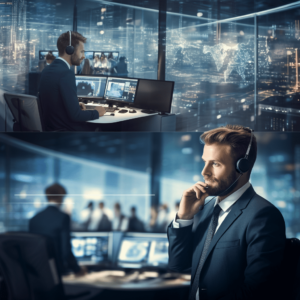 Choosing the right dialer system is a critical decision that can significantly impact your business's efficiency and success. With various options available, it's essential to align the dialer system with your specific needs. Here's a guide to help you make an informed choice:
Assess Your Goals and Needs: Begin by identifying your objectives. Are you aiming to increase outbound call volumes, enhance customer interactions, or streamline sales processes? Understanding your goals will guide your choice towards the most suitable dialer system.
Types of Dialer Systems:

Predictive Dialer: Ideal for high-volume outbound campaigns. It predicts agent availability and connects them to live calls, minimizing idle time.
Power Dialer: Sequentially dials numbers for agents. Best suited for smaller teams or businesses requiring more personalized interactions.
Preview Dialer: Allows agents to preview information before making a call. Useful for industries requiring a deeper understanding of each customer's profile.
Auto Dialer: Automatically dials a list of numbers and plays pre-recorded messages. Suitable for tasks like appointment reminders or payment notifications.
Scalability: Consider the scalability of the dialer system. Will it accommodate your business's growth? Ensure that the system can expand with your requirements without hindering performance.
Integration with Existing Systems: Your dialer system should seamlessly integrate with your existing CRM, customer database, and other tools. This integration ensures smooth data flow and consistent customer information.
Compliance: If you deal with outbound calling, compliance with regulations (e.g., TCPA) is crucial. Choose a dialer system that has built-in compliance features to avoid legal complications.
Features: Assess the features offered by each dialer system. Look for functionalities such as call recording, call analytics, call scripting, and real-time reporting. These features can enhance agent performance and customer interactions.
Ease of Use: A user-friendly interface is essential for smooth adoption by your team. Complicated systems might lead to inefficiencies and increased training time.
Customization: Your business is unique, and your dialer system should be customizable to meet your specific needs. The ability to tailor workflows and scripts can improve productivity.
Customer Support: A reliable support system is crucial in case of technical glitches or operational questions. Ensure the dialer provider offers responsive customer support.
Cost: While cost is a factor, consider the return on investment (ROI) offered by the chosen system. A system that enhances productivity and customer satisfaction can justify a higher upfront cost.
Trial and Demo: Before committing, request a trial or demo of the dialer system. This hands-on experience will give you a better understanding of its functionalities and how well it fits your business needs.
Feedback and Reviews: Research user reviews and seek feedback from businesses similar to yours. Their experiences can provide valuable insights into the system's performance and suitability.
In conclusion, choosing the right dialer system requires a comprehensive evaluation of your business goals, needs, and the features offered by different systems. By considering scalability, integration, compliance, features, usability, customization, customer support, cost, and user experiences, you can make an informed decision that aligns with your business requirements.