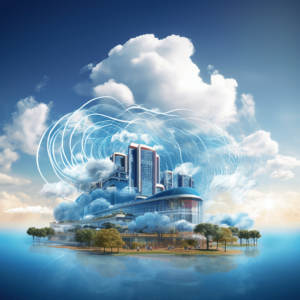 The advent of cloud contact centers has ushered in a transformative era for telecommunication providers seeking to revolutionize their customer service and operational efficiency. Across the telecommunications landscape, leading companies have already embraced cloud contact centers, yielding substantial improvements in customer experiences. Below are some compelling real-world examples of how cloud contact centers are empowering telecom providers to elevate their business prowess:
Unparalleled Scalability: Cloud contact centers present telecommunications companies with the ability to swiftly scale their operations in response to surging demand. This empowers telecoms to effectively manage larger call volumes without burdening existing resources, ensuring that customers receive prompt and responsive support even during peak periods of the year.
Empowering Automation & Self-Service Options: By harnessing cutting-edge technologies such as natural language processing and machine learning, cloud contact centers offer telecoms the opportunity to implement automated self-service features like voice bots and AI-powered chatbots. These advancements significantly reduce customer wait times and provide patrons with the convenience of accessing the information they need without having to engage with an agent.
Streamlined Operational Costs: Embracing a cloud contact center model liberates telecommunication providers from the need to invest in costly hardware or augment their workforce to handle call center management. With all requisite software and infrastructure accessible through the cloud, telecoms can achieve noteworthy savings in operational costs while upholding exceptional service quality.
Illuminating Customer Insights: Cloud contact centers serve as valuable repositories of customer behavior and preferences data, empowering telecoms to garner insights into areas where they can optimize their customer service. By tailoring their services to better align with customer needs, telecommunication providers foster greater customer satisfaction, leading to heightened loyalty and patronage.
In essence, cloud contact centers embody a panoply of benefits for telecommunication providers intent on refining their customer service and operational workflows. By leveraging these advanced technologies, telecoms can optimize their business processes, create cost-effective and streamlined operations, and, most importantly, deliver unparalleled customer experiences to bolster their standing in a competitive market.