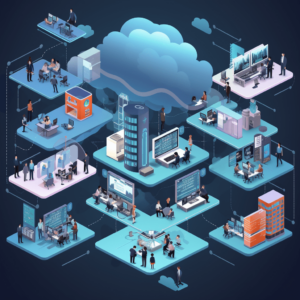 As the public sector and government agencies move more of their services online, the potential for cloud technologies to streamline operations and improve services is becoming increasingly clear. Cloud-based technologies offer a range of benefits to remote workforces in the public sector, from improved collaboration between staff working remotely, to enhanced security measures that protect sensitive data. 
Cloud technology can help ensure that all members of a distributed workforce have access to up-to-date information, enabling teams to maintain consistency in their workflows and stay informed on changes within an organization. By leveraging cloud storage solutions such as Google Drive or Dropbox, government agencies can securely store data with strong encryption standards that protect against unauthorized access. These systems also allow for easy sharing of documents between team members, regardless of their geographic location. 
Cloud-based collaboration tools such as Zoom and Microsoft Teams allow teams to virtually interact with each other in real time, providing a platform for effective virtual meetings and group discussions. These platforms give remote workforces the ability to stay connected with one another while working together towards common goals. 
In addition, cloud technologies offer enhanced security measures that can help government agencies maintain compliance with privacy regulations and protect confidential data from malicious actors. Cloud service providers utilize sophisticated algorithms that scan user data for suspicious activity or breach attempts. This provides a level of protection that is often not available when using traditional IT systems. 
As the public sector continues its move towards digital transformation, cloud technology will become increasingly critical for government and public sector organizations. By leveraging the full potential of cloud-based technologies, remote workforces in the public sector can remain productive and collaborative even when faced with significant geographic challenges.