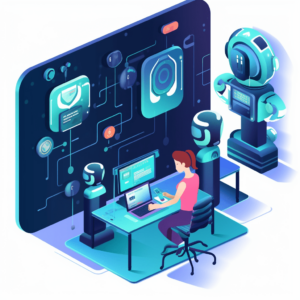 Nonprofit organizations often have limited resources and staff, making it challenging to manage donor relations and mission delivery efficiently. However, artificial intelligence (AI) and chatbots can help maximize the potential of nonprofit contact centers. Here are some ways AI and chatbots can benefit nonprofits:
24/7 Availability
Chatbots can provide 24/7 availability to donors and supporters, even outside of business hours. This means that donors can get the information they need at any time and can contribute to the organization's mission more easily.
Quick Response Times
AI-powered chatbots can respond to donor inquiries quickly and efficiently, reducing wait times and improving the overall donor experience. This can help build stronger relationships with donors and increase support for the organization.
Personalization
Chatbots can be programmed to deliver personalized experiences for donors. By analyzing data about the donor's history and preferences, chatbots can provide tailored responses and recommendations. This can increase engagement and strengthen relationships with donors.
Cost Savings
Using chatbots can reduce the workload on nonprofit staff and volunteers, freeing them up to focus on other important tasks. Additionally, chatbots can handle a high volume of inquiries simultaneously, reducing the need for additional staff or resources. This can save nonprofits money and improve overall efficiency.
Data Analytics
AI-powered chatbots can also gather data and provide insights that can help nonprofits make informed decisions about their operations. By analyzing donor inquiries and interactions, nonprofits can identify trends and make data-driven decisions that can improve their mission delivery and donor relations.
In conclusion, AI and chatbots can help nonprofit organizations maximize the potential of their contact centers. By providing 24/7 availability, quick response times, personalization, cost savings, and data analytics, chatbots can improve donor engagement and strengthen relationships with supporters. Contact a chatbot provider today to learn more about how AI-powered chatbots can benefit your nonprofit organization.