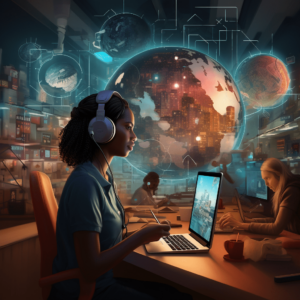 The global pandemic brought unforeseen challenges to businesses worldwide, and call centers were no exception. As hubs of human interaction, call centers faced the immediate challenge of maintaining operations while ensuring the safety of their employees. Here's a look at the significant shifts and adaptations that took place within call centers during this turbulent time.
1. Transition to Remote Work:
Perhaps the most pronounced change was the rapid shift from centralized office environments to remote work setups. Many call centers had to quickly equip their employees with the necessary tools – from laptops and headsets to secure VPN access – to operate effectively from their homes.
2. Enhanced Technological Infrastructure:
The sudden reliance on remote operations pushed call centers to invest in cloud-based solutions, ensuring that agents could access customer data securely from remote locations. Many also implemented advanced Virtual Private Network (VPN) systems to maintain data security.
3. Emphasis on Training and Support:
The transition to remote work meant that agents no longer had immediate in-person support from supervisors. This challenge prompted call centers to create robust online training modules and digital channels for real-time support, ensuring agents felt equipped and supported, even from afar.
4. Rethinking Shift Patterns:
With the flexibility of remote work and the global nature of the pandemic's impact, many call centers reconsidered their shift patterns. This allowed them to manage varying call volumes more efficiently and cater to agents juggling home responsibilities.
5. Deployment of AI and Chatbots:
To manage increased call volumes – especially for sectors like healthcare and e-commerce – many centers integrated AI-powered chatbots to handle basic queries, freeing up human agents to address more complex issues.
6. Emphasizing Mental Health and Well-being:
Recognizing the potential strains of remote work and the general stress of the pandemic, many call centers introduced mental health resources and support for their employees, ensuring that they felt cared for during these challenging times.
7. Strengthening Communication Channels:
With the absence of face-to-face interactions, internal communication became paramount. Regular virtual meetings, updates, and feedback sessions became commonplace, ensuring teams felt connected and aligned.
8. Preparing for Future Disruptions:
Lessons learned during the pandemic made it clear that adaptability is crucial. Call centers started to build continuity plans and backup strategies to better handle potential future crises, ensuring that they wouldn't be caught off guard again.
In conclusion, while the global pandemic presented immense challenges, it also acted as a catalyst for change within the call center industry. The swift adaptations made during this period have not only allowed these centers to survive but, in many ways, have set them on a path for more resilient and flexible operations in the post-pandemic world. The emphasis on technology, well-being, and adaptability will likely remain hallmarks of this industry for years to come.