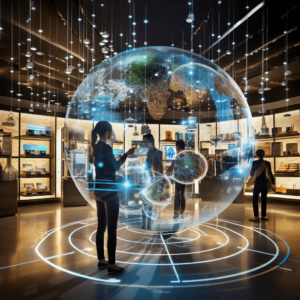 In the fiercely competitive retail customer experience market, customer data proves to be a game-changer, providing invaluable insights that drive innovation. By tapping into customer data, retailers gain unparalleled visibility into their customers' preferences and needs, enabling targeted strategies for seamless experiences that foster loyalty and boost sales.
Customer data is a critical asset in the arsenal of any organization aiming to innovate in retail customer experiences. It empowers organizations to comprehend how customers interact with their brand across diverse channels—online, offline, mobile—and make informed decisions about product development, pricing, and marketing campaigns. Moreover, it offers a window into how customers experience products or services throughout their buying journey, enabling tailored experiences that result in heightened satisfaction and loyalty.
Furthermore, leveraging customer data optimizes operational efficiency by automating processes like product personalization, delivery optimization, and inventory management. Automating tasks associated with handling large datasets saves time, cuts costs, and frees up resources for more strategic initiatives, promoting further innovation in retail customer experiences and driving profitability and customer loyalty.
Ultimately, customer data is a pivotal asset, empowering retailers to foster innovation in retail customer experiences. With insights derived from this data, organizations gain visibility into customer needs and preferences, fueling the creation of enriching and personalized experiences. By doing so, retailers cultivate trust, foster loyalty, and pave the way for growth and success.
In conclusion, customer data plays a pivotal role in driving innovation in retail customer experiences. When equipped with the right strategies, organizations can leverage this data to glean powerful insights into customers' preferences, enabling a comprehensive understanding of the buying journey. Armed with these insights, retailers can craft tailored experiences that elevate satisfaction, loyalty, and ultimately, profitability.