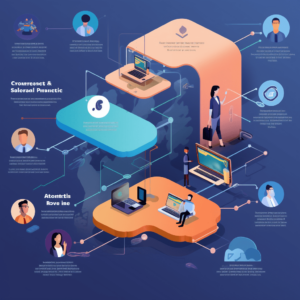 Interactive Voice Response (IVR) systems are a fundamental part of call centers, serving as the first point of contact for many customers. To ensure a seamless and positive experience, it's crucial to continually enhance IVR systems. In this article, we'll explore key strategies for improving IVR systems to provide customers with a more efficient and satisfying interaction.
**1. Clear and Concise Menus: Simplify IVR menus to ensure customers can quickly navigate to the options they need. Avoid overly complex menu structures that lead to frustration and drop-offs.
**2. Natural Language Processing (NLP): Implement NLP technology to allow customers to interact with the IVR using natural speech. This reduces the need for rigid menu selections and provides a more intuitive experience.
**3. Personalization: Use data from CRM systems and previous interactions to personalize the IVR experience. Greet callers by name and offer options based on their history and preferences.
**4. Multi-Channel Integration: Ensure seamless integration with other communication channels, such as chat, email, and social media. This allows customers to switch between channels without losing context.
**5. Effective Call Routing: Improve call routing algorithms to direct customers to the most appropriate agent or department. Use data analytics to optimize routing based on caller behavior and historical patterns.
**6. Voice Biometrics: Implement voice biometrics for secure and convenient authentication. This reduces the need for customers to remember PINs or answer security questions.
**7. Real-Time Updates: Provide real-time updates on expected wait times or service interruptions. Keeping customers informed reduces frustration and anxiety during peak call periods.
**8. Opt-Out Options: Always offer an option for customers to speak with a live agent. Some customers may prefer human interaction, especially for complex or sensitive issues.
**9. Effective Error Handling: Improve error handling by providing clear instructions when the IVR doesn't understand a request. Offer alternative options or route the call to a live agent when necessary.
**10. Continuous Monitoring and Testing: Regularly monitor IVR performance and conduct usability testing with actual customers. Use feedback to identify pain points and make necessary improvements.
**11. Dynamic Updates: Keep IVR scripts and prompts up to date to reflect current promotions, services, and seasonal changes. Stale or inaccurate information can frustrate customers.
**12. Integration with Knowledge Bases: Link the IVR system to knowledge bases and FAQs to provide instant answers to common queries. This reduces the need for customers to wait for an agent.
**13. Customer Feedback Loop: Implement a feedback loop that allows customers to provide input on their IVR experience. Use this feedback to drive continuous improvement.
**14. Agent Assistance: Provide options for callers to connect directly to a live agent or request a callback if they prefer to speak with a person.
**15. Accessibility Features: Ensure that the IVR system is accessible to customers with disabilities. Provide options for text-to-speech, speech-to-text, and other accessibility features.
**16. Analytics and Reporting: Leverage analytics tools to gain insights into IVR usage and caller behavior. Use this data to refine menu options and call routing strategies.
**17. Scalability: Ensure that the IVR system can scale with increasing call volumes. Scalability is vital to maintaining service quality during peak periods.
In conclusion, enhancing call center IVR systems is an ongoing process that requires a customer-centric approach. By simplifying menus, implementing NLP, personalizing interactions, and continually gathering feedback, call centers can create IVR systems that provide a seamless and efficient experience for customers while optimizing operational efficiency. A well-designed IVR system not only reduces wait times but also enhances customer satisfaction and loyalty.