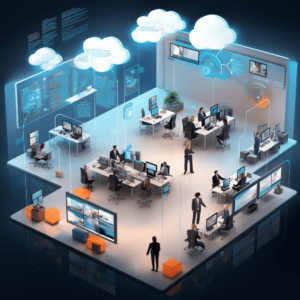 Comprehensive Reporting and Analytical Capabilities When sales managers have access to comprehensive reporting and analytical capabilities, they are better able to make decisions that are informed and founded on objective data. The utilization of key performance indicators, monitoring of call quality, and insights into the performance of the team are all helpful in facilitating data-driven operations.
Scripting and call counseling are capabilities that are offered in some systems. These tools give prompts, methods for addressing concerns, and advice on how to preserve consistent messaging while communicating with customers.
The utilization of cloud-based systems enables users to access and utilize them from any location that is equipped with an internet connection, hence facilitating flexibility and mobility. This characteristic renders them very suitable for remote work and facilitates mobility. This feature becomes particularly advantageous for sales teams operating remotely from diverse locations and utilizing various devices.
Prioritization of Leads and Segmentation of Leads Sales teams have the option to prioritize leads by assigning them a hierarchical rank that is dependent on a variety of parameters, such as the number of leads, the patterns of behaviors leads exhibit, and the demographic features of leads. This guarantees that the efforts of sales personnel are directed toward the possibilities with the greatest potential.
Workflow automation involves the utilization of cloud-based dialers to automate various tasks, depending on the outcome of a call. As an illustration, subsequent to a telephone conversation, the system possesses the capability to establish assignments for subsequent communication, transmit electronic mail messages, or advance potential customers to the subsequent stage of the sales process.
The implementation of automation features such as call disposition codes, automatic voicemail drop-offs, and call scheduling results in a reduction of manual duties. Consequently, sales representatives are able to allocate more of their time towards engaging with potential customers.
There is no longer a demand for on-site hardware and maintenance, therefore cloud-based solutions offer cost savings as a result of the elimination of fees associated with the acquisition of equipment, its installation, and ongoing maintenance.
The adoption of a cloud-based dialer system within a firm can provide the required resources and competences to raise the productivity of sales teams, promote greater deal closing, and assure a superior customer experience. The deployment of streamlined workflows, automation of routine tasks, and access to useful insights substantially improves the efficacy and efficiency of the sales process, which in turn fosters more success and productivity.