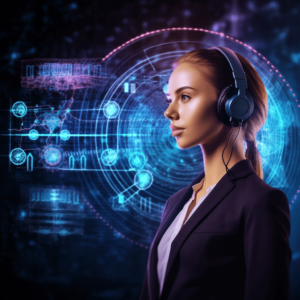 As technology continues to evolve at a rapid pace, the future of dialers is set to be transformed by AI-driven innovations. Artificial Intelligence (AI) is revolutionizing various industries, and the realm of dialers is no exception. Here's a glimpse into the exciting possibilities that lie ahead:
Smart Predictive Dialers: Traditional predictive dialers have long been used to automate outbound calls and connect agents with live prospects. However, with AI's prowess, smart predictive dialers can now analyze vast amounts of data to predict the best time to call, increasing the chances of reaching potential customers and boosting agent efficiency.
AI-Enhanced Speech Analytics: AI-powered speech analytics tools are becoming increasingly sophisticated in understanding and analyzing spoken interactions. With advanced natural language processing (NLP) algorithms, these tools can gauge customer sentiment, detect emotions, and identify actionable insights from conversations. This invaluable data helps businesses enhance customer experience and refine their sales and support strategies.
Virtual Agents and Chatbots: AI-driven virtual agents and chatbots are set to become even more versatile and human-like in their interactions. They can handle customer inquiries, answer frequently asked questions, and provide personalized recommendations round-the-clock, ensuring exceptional service without human intervention.
Personalized Customer Engagement: AI empowers dialers to tailor interactions based on customer data, preferences, and historical behavior. By analyzing vast datasets, AI-driven dialers can deliver personalized messages and offers, creating more meaningful connections with customers and fostering brand loyalty.
Dynamic Call Routing: AI-driven dialers can optimize call routing by considering factors like customer history, agent expertise, and call urgency. This ensures that callers are directed to the most suitable agent, resulting in faster resolutions and better customer satisfaction.
Real-Time Coaching and Assistance: AI can provide real-time coaching and assistance to call center agents during customer interactions. By analyzing ongoing conversations, AI can offer relevant suggestions, answers to queries, and even compliance prompts, empowering agents to deliver better service.
Sentiment Analysis for Sales Prospects: AI-powered dialers can assess prospects' sentiments during calls, enabling sales representatives to adjust their approach accordingly. This valuable feedback can help build rapport and improve sales conversion rates.
Automated Follow-Ups and Reminders: AI-driven dialers can automatically schedule and send follow-up messages or reminders based on customer preferences. This streamlines post-call interactions, ensuring no leads or customer interactions fall through the cracks.
In conclusion, AI-driven innovations are propelling the future of dialers towards unprecedented levels of efficiency, personalization, and customer-centricity. Embracing these advancements allows businesses to stay ahead of the curve, elevating their customer engagement and driving success in the ever-competitive landscape.