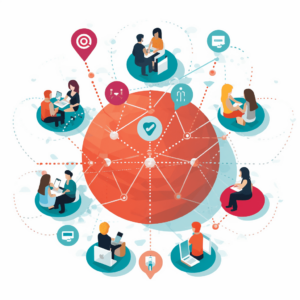 Telecommunication companies face the challenge of handling high-volume calls while managing customer data effectively. In this blog post, we will discuss some effective strategies for handling high-volume calls and managing customer data.
Implement an Omnichannel Contact Center
An omnichannel contact center is a customer support system that integrates multiple channels, such as phone, email, chat, and social media, into a unified platform. Implementing an omnichannel contact center enables telecommunication companies to handle high-volume calls by providing customers with multiple options to reach customer support, thus reducing wait times. Additionally, an omnichannel contact center allows agents to access customer data from multiple channels, providing a complete view of the customer's interactions with the company.
Use Automation to Route Calls
Automation tools can help telecommunication companies route calls more efficiently. For example, intelligent call routing uses data analytics to route calls to the most appropriate agent based on the customer's previous interactions with the company. This ensures that customers are connected with an agent who can provide them with the support they need quickly and efficiently.
Utilize Customer Relationship Management (CRM) Software
CRM software is a powerful tool that telecommunication companies can use to manage customer data effectively. CRM software provides agents with a comprehensive view of the customer's interactions with the company, enabling them to provide personalized support. Additionally, CRM software can automate tasks such as data entry, freeing up agents' time to focus on providing support to customers.
Implement a Self-Service Portal
A self-service portal enables customers to access support resources and resolve issues on their own, reducing the number of calls that need to be handled by agents. Telecommunication companies can implement a self-service portal that allows customers to view their account information, pay bills, and troubleshoot common issues. This reduces the burden on agents, enabling them to focus on more complex issues.
In conclusion, telecommunication companies can handle high-volume calls while managing customer data effectively by implementing an omnichannel contact center, using automation to route calls, utilizing CRM software, and implementing a self-service portal. These strategies enable telecommunication companies to provide personalized support to customers while reducing wait times and the burden on agents.