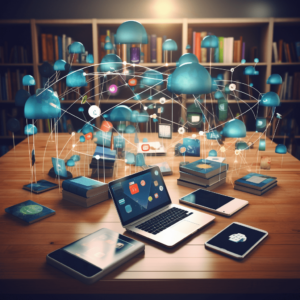 In today's ever-evolving world of education, the ability to communicate effectively is absolutely crucial. And now, thanks to the emergence of cloud phone systems, a new era of communication is upon us. These innovative systems are revolutionizing the way administrators, instructors, and students interact and connect with one another. The incorporation of cutting-edge systems is completely transforming the way communication takes place within educational institutions. This revolutionary shift is paving the way for a more vibrant, adaptable, and all-encompassing learning environment.
Cloud-based phone systems have revolutionized the way we communicate, breaking free from the limitations of location and time. With these innovative systems, staying connected has never been easier, no matter where you find yourself. Whether you're working from the comfort of your home office or jet-setting across the globe, seamless connectivity is now at your fingertips. Say goodbye to the days of being tied down to a physical phone line and hello to the freedom of cloud-based communication. In today's ever-evolving world of distance learning, having a communication system that not only supports accessibility but also adapts to different learning models and educational approaches is absolutely priceless. With the rapid shift towards online education, it has become increasingly important to have a reliable means of communication that caters to the diverse needs of students and educators alike. Whether it's asynchronous learning, synchronous sessions, or a combination of both, a robust communication system is the key to ensuring seamless and effective educational experiences for all.
Beyond accessibility, cloud phone systems are fostering a new level of collaboration within schools. Integrated features like group calls, instant messaging, and document sharing are simplifying interactions, making learning more interactive and engaging. These functionalities are essential in building an enriching learning environment that caters to the diverse needs of students and teachers alike.
The economical aspect of cloud phone systems can't be overlooked either. By forgoing the need for extensive infrastructure and upkeep, schools can utilize their funds more effectively, redirecting them towards essential educational endeavors and improvements.
Security and regulatory compliance are other cornerstones of cloud phone systems in education. They ensure the safeguarding of confidential information and uphold the standards and regulations pertinent to educational communication, maintaining the trust and integrity of the educational institutions.
To sum up, the adoption of cloud phone systems in schools is much more than a technological upgrade; it's a transformative step towards more effective and inclusive communication within the educational sector. By providing advanced, secure, and economical communication solutions, cloud phone systems are responding to the contemporary needs of education, facilitating a more engaged, inclusive, and secure learning experience, and contributing to the development of well-rounded educational communities.